More on . . .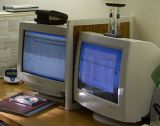 Site note for:


Insource Staffing (a.k.a. Insource Solutions, 1 Editorial Writing, 1 Technical Writing, and Editor's Ink)

Many or all of these generate numerous lengthy Active Server Pages with multiple links (including ones for this site). These pages often show up in search engines. During the search, however, these ASP pages, though listed, are never accessible. Clicking on them leads only to the parent site and not to any of the content listed in the search. A search for this site's URL or title, for example, can sometimes yield dozens of ASP page listings for Insource Solutions and its affiliates. These listings have page titles like "California writing services," "Wyoming writing services," "North Carolina writing services," "Minnesota writing services," "Minneapolis editing services," and "temporary tech writers." However, none of them link to this site or to the listed ASP page containing the content (such as www.insourcestaffing.com/Minnesota-writing-services.asp, www.insourcestaffing.com/Albuquerque-writing-jobs.asp, www.insourcestaffing.com/Oakland-staffing-agency.asp, www.1editorial.com/minneapolis-freelance-writing-jobs.asp, or www.insourcestaffing.com/Charlotte-proofreading-jobs.asp). Instead, they all go to the main page on one of Insource Solutions' affiliate sites. If you view the search engines' cached ASP pages, you may find over a hundred technical writer links per page. Apparently these links are harvested in a disingenuous attempt to direct traffic to Insource Solutions, since they're somehow picked up by search engines even though none of the ASP pages containing these links are ever currently available.





Disclaimer: These links are provided "as-is" for information only. Winzig Consulting Services does not necessarily endorse or approve of a site because its link is listed here. If you have suggestions or notice a broken link, please send us an e-mail using the link at the bottom of this page.